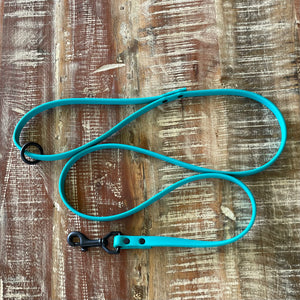 Waterproof Leash : Teal + Black
Regular price $0.00 $62.00 Sale
This dog leash is waterproof, dirt resistant and extra strong for all day play.
Standard leash that clips to any collar or harness.  Made with a heavy duty 1/2" wide strap for ideal comfort and grip in your hands.

Bonus:  Additional floating o-ring hardware for clipping on keys, poop baggies or to loop around a pole.  
Hand constructed on Kauai, HI
Material: Biothane - 1/2" wide strap / Heavy duty thickness 
Hardware: 100% Solid Brass / PVD Black Matte 

PVD = "Physical Vapor Deposition"
PVD is a highly accurate plating process carried out in high vacuum environments at temperatures between 150 and 500 *C. It produces an extremely (emphasize EXTREMELY) durable finish to prevent scratching. Typically, black hardware that is found in the marketplace is not PVD, and is generally considered a black spray paint causing it to chip and scratch off within days. PVD plating is the process used to plate high end watch hardware, golf clubs, etc., and the only successful way to make a black that will not wear off.
1 size fits most dogs.  Available in 4 or 6 feet.